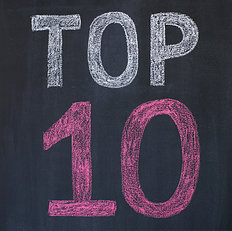 Incase you live under a rock and don't know what ICD-10 is, well... it's the abbreviation for the 10th version of The International Classification of Disease - a universal system of coding (first created in 1983 and completed in 1992) used by physicians and other healthcare providers to classify and code all diseases, diagnoses, symptoms, abnormal findings, procedures, and external causes of injury recorded in conjunction with hospital care in the United States.
On October 1st, 2014, the official use of and mandatory transition into ICD-10 in the United States will commence. In addition, it will be split into two systems: ICD-10-Clinical Modifications (CM) (a system that uses unique alphanumeric category classifications for the first time, includes more than 68,000 diagnostic codes, and has twice as many categories as ICD-9-CM), and ICD-10 procedure coding system (PCS) (a system for inpatient hospital procedure coding).
My Top 10 Motivators to Get Started:
10) Eliminate stress; save your procrastination for another project. There's no sense in putting it off (and putting yourself and/or your staff through unnecessary stress) since it's not an option to learn it; and, by the fall of 2014, all coders and healthcare professionals who use, read, and/or access codes will have to understand how to use it proficiently.
9) Get formal training and be the "go to" specialist. By preparing for the 2014 ICD-10 transition now, you'll be able to become proficient in ICD-10 coding far in advance by enrolling in and completing various formal and comprehensive specifically-designed ICD-10 training programs, including online courses currently offered by the American Health Information Management Association (AHIMA).
8) A journey of a thousand codes begins with the first step. Even though the deadline for ICD-10 has been pushed ahead several times (could it be pushed again?!), the Centers for Medicare and Medicaid Services (CMS) consistently recommend that medical practices take several years to prepare for implementation of the new code set. If October 1, 2014 remains as the newly-established deadline, that leaves just a little over a year to prepare for the transition. Do something each day to enhance your (and your team's) knowledge, skills, and expertise in ICD-10.
7) The more time you give yourself, the more room you'll have to negotiate. Preparing for the transition into ICD-10 demands not only knowing how to use the coding system, but also having all your ducks in a row. You'll need to install (and test) new software, invest in patient kiosks and other additional technology (to help boost productivity), develop new practice policies and guidelines, and update paperwork and forms. Phew. The more time you give yourself to research and work with vendors and suppliers, the more you can negotiate rates and delivery times. If you wait until the very last minute, you'll be paying top dollar for everything - this includes training!
6) Embrace the new, and stay connected to the old. By planning ahead of time, you'll be prepared to have both data sets loaded (ICD-9 and ICD-10) because your systems will need to be capable of submitting both code sets according to date of service.
5) The more the merrier (and better). You'll need to be certain that more than one person is trained and proficient in the new ICD-10. In case one newly-trained staff member leaves, you'll have another person, on staff, fluent in ICD-10 coding. (To help retain key personnel, develop an incentive program to acknowledge, reward, and keep dedicated personnel - plus, it's just fun to give people prizes and tell them they're doing great!).
4) Test, and then test again. By planning now, you'll be able to run lots of practice tests to make sure you (and/or your staff) are prepared to identify and select the right documentation codes. You can create a report of the 30 most common diagnosis codes for each provider, and try to code them on the basis of the ICD-10. You can then refer to the CMS website to see whether those codes match. You can't do that if you wait until October of 2014 to start preparing!
3) Identify your problem areas and provide solutions. By planning ahead of time, you will prevent a backlog of unprocessed claims in 2014. Whether your concerns are with training, having compatible software, securing the right additional technology, or just being confident and proficient with the new coding, planning ahead gives you the opportunity and time to overcome the stumbling blocks and ensure a smooth transition.
2) Unprocessed claims = cash-flow disruption. If you aren't coding the finding correctly (or with the latest coding protocol), you won't get paid. Womp womp! If you don't get paid, your whole office is affected, as well as your professional and personal life. So, don't let that happen.
1) You won't be tossing and turning (you can worry about fixed costs and other nightmares). If you take the time now to prepare for ICD-10 transition, you can sleep well at night knowing that you are engaging in the onerous process thoroughly and carefully – well in advance.
So, yes… you may feel like it's a little early to be doing all of this, but it's a big deal and shouldn't be taken lightly. Now, get moving and preparing!