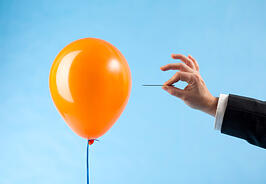 It's a mistake to think that formalized efforts to measure hospital patient satisfaction are just another government intrusion. Programs like the Hospital Consumer Assessment of Healthcare Providers and Systems Survey can not only bring you direct financial rewards (and who doesn't want more of that?!), they can help your organization excel in the areas of ongoing growth and profitability.
But hospital patient satisfaction isn't about money. And it's not about a survey score. It's about who you are; your brand as a care-giver. Here are six mistakes you might be making in your efforts to win people over:
1. Thinking you can fake it.
You can't simply plug people into some "success formula," because sincerity is detectable. A quality experience is one that's personalized, customized to make patients and their families feel comfortable and confident.
Quality has to be ingrained to be consistent and sustainable. Your hospital's philosophy and culture have to reflect caring behaviors and procedures. You have to work at it, and you need to be accountable to meet internal as well as patient expectations.

2. Thinking satisfaction doesn't transcend your organization.
You're part of a larger community. The excellent experience and outcomes you deliver set a standard outside your walls and show you're a good neighbor.

3. Thinking "OK" results won't hurt you.
In order to stay competitive, you have to attract and retain patients. You have to attract and retain top-notch talent. No one is attracted to mediocrity, especially when their lives and careers are at stake.

4. Thinking your actions and marketing are separate.
Does your entire brand reflect your focus on patients? You're dealing with people who are at a distinct disadvantage. They're wary, worried, perhaps expecting the worst. Hospital patient satisfaction is about alleviating their fears, comforting them, helping them learn and gain confidence.
Consumers are searching for information and help online. Are you satisfying them with marketing content that educates, answers their questions, and makes their in-person experience better? Studies show patients are willing to travel to get care they perceive to be higher quality. They have a choice and they're exercising their right to choose.
Satisfied patients provide positive referrals. They talk about you via social media, post good reviews, etc. The opposite is also true. Are you listening to patients, so your marketing content can tell your satisfaction success stories?

5. Thinking it's only about physicians.
Improving physician-patient communication is just the beginning. Streamlining the business end of the experience – from check-in or admission through the billing process -- can do wonders for hospital patient satisfaction.
Everyone in your organization needs to be on the same page, implementing specific efforts to improve their part of the overall patient experience. So include everyone who has any type of patient contact in helping identify opportunities to improve and developing techniques to deliver solutions that matter. Putting every brain to work on improvement will bring greater results and help unify staff.
Is your hospital a great place to work? That shows in the demeanor of all your personnel. Happier staffs do a better job, reflecting their own satisfaction. And that instills confidence in patients.

6. Thinking small things don't matter.
Intangibles are just as important as tangibles in determining perceptions. Even the smallest details can make a big difference in hospital patient satisfaction. Every single interaction matters - from initial contact through the care continuum and follow-up. The cafeteria staff. The accounting department.
Go out of your way to be overtly supportive and helpful. Provide little extras for patients and family members, such as free wireless internet access. Or therapy pets. Or even having someone to talk to in your highest-stress areas such as the ER.

Hospital patient satisfaction reflects the reality of what you deliver, in terms of care and in terms of perceived caring.
So ask yourself:
Are our services truly convenient? Do we use texting or online access to facilitate appointment scheduling, send reminders, etc.?
Do we respect each patient's time? Do we have long wait times? Do docs spend enough time with people?
Can we further streamline our "paperwork" experience?
Do patients have to suffer through redundant or overly lengthy admission or other processes? Can they check in before they arrive?
Is our billing easy to understand?
How responsive are we to inquiries, whether routine or unhappy?
Formal quantification aside, make it a habit to always ask patients what they want and need, and how you can improve. Use social media to engage them and generate useful feedback. People feel appreciated – more satisfied – if you ask their opinion.
Ultimately, perception is everything. If you're truly focused on patients, your survey scores will show that.
How would YOU want to be treated?