Patient Collections: Insourcing vs. Outsourcing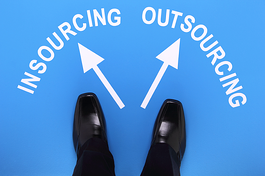 From the smallest medical offices to the largest hospitals – they all have one thing in common: patient collections. Every practice and hospital must find the most effective way to handle their patient collections. At some point you're going to consider whether keeping your patient collections services in house is the best option. There are many benefits to outsourcing this necessity, and VARO Healthcare can ensure you reap those benefits in your business.
Consider these 5 points when you say, "I'd rather handle collections in-house"
Technology is Expensive
Keeping your patient collections in-house means footing the bill for all the expenses incurred, not the least of which is the technology you will need. To maximize time, especially for larger practices and hospitals, you'll need some type of dialer platform system to automate the calling process. These systems alone can cost thousands upfront and thousands more in monthly fees and maintenance. Not to mention – training on HOW TO USE IT! That takes time, money, and an FTE (or more).
You may be thinking that you're just a small medical practice. You don't need such technology to handle your patient collections. While auto dialing features may not be a necessity, billing software is. This does not come cheap, either. Once you add up the cost of computers, operating system software, billing software, and maintenance on this equipment, you're looking at thousands of dollars already.
VARO Healthcare already has all the technology they need to begin managing your patient collections from day one. Your contract rate for outsourcing is all you'll pay, and it is VARO that handles the expense of keeping their technology updated to provide you with the best collection services in the industry.
Time and Training
Let's face it, patient collections takes time. A lot of time. If you don't have a dedicated patient collections staff, you have to spread your other office staff thin to handle this responsibility. That takes away from other important office functions you could have them doing. There's also time involved in training staff members on a variety of skills involved in collections: phone etiquette, utilizing your chosen billing software, and maintaining appropriate records.
In a larger practice or hospital where there may already be a billing department, employee turnover is going to be greater. That equates to more time spent in training and searching for lasting employees, and that time is money.
When outsourcing to VARO Healthcare, these are no longer your concerns. Your employees can focus on the tasks that are most important to your medical operation without feeling overworked. VARO's employees are extensively trained to not only be effective on the phone, but also leave your patients feeling good about their contact with your collections service. Their methods are proven in the industry, providing clients with an average of over 20% more resolved billing disputes.
Space Considerations
Whether in a small office setting or a large hospital, space is always a priceless commodity. The larger the setting, the more space you'll need for billing and collections. It may seem like a small measure, but consider the equipment alone: computers, phones, desks, chairs, files, and adequate spacing for employees.
VARO Healthcare does not need any of your space. All of their services are handled in their own facilities, freeing up your offices for more important functions that will better serve the needs of your individual patients.
Additional Expenses
While other expenses have already been discussed, there's still more to consider when keeping your patient collections in-house. You have the obvious expense of salary for each billing employee. You must also consider the cost of benefits for those additional employees.
There's also the cost of statements (postage and paper), phone bills, credit card fees, lockbox services, web-pay solutions – to name a few.
Perhaps of largest concern is something no one wants to think about, but no responsible office or hospital can disregard: embezzlement. An estimated $500 billion is lost to internal theft every year according to the U.S. Department of Commerce. When keeping your patient collections in-house, you run a larger risk of having an employee appropriate funds, and for a small medical office, that can have irreversible effects, sometimes forcing private practices to close, and even the largest hospitals liable to lawsuits.
By using one of the most reputable and trusted names in the industry, VARO Healthcare, you won't have any concerns. As a debt-free and independently owned company, the only focus VARO has is getting you the results you need.
Partnerships
Perhaps the greatest benefit to outsourcing your patient collections services with VARO Healthcare is the additional partnerships you will benefit from. A nationally licensed collection agency for bad debt, BYL Collections is a sister company to VARO Healthcare. You will be able to utilize their services as part of VARO's patient collection services.
Whether running a small private practice or managing a large regional hospital, timely and effective patient collections services are vital. Let VARO Healthcare take that job on for you so you can save money and focus on the most important part of your operation - your patients.
Looking for more information about our services? We'd love to hear from you.
Please contact: Alyssa DiSalvatore, Director of Sales and Brand Management
Telephone: (610) 840-8114
Email: adisalvatore@varohealthcare.com